Looking for events run by the ETFO Provincial Office?
Visit etfo.ca and login to the Member Site.

Women's Snowshoeing Retreat
Feb 25 @ 10:00 am

-

1:00 pm

$10.00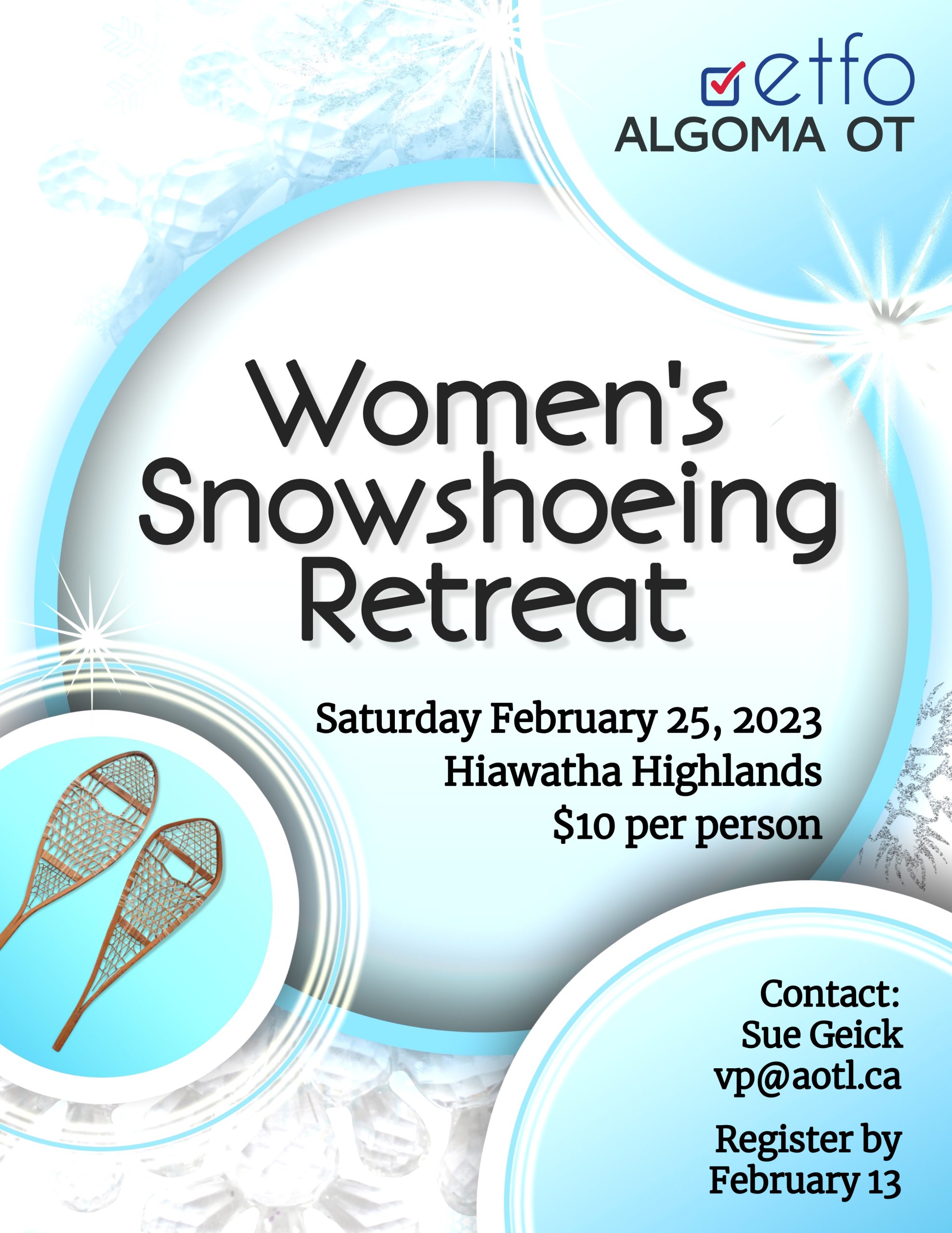 Come relax and enjoy Algoma's beautiful winter landscape! The Equity and Status of Women Committee is hosting a Women's Winter Snowshoeing Retreat. This event is open to all who identify as women.
Where: Hiawatha Highlands
When: Saturday February 25, 2023
Time: Snowshoe and Trail Pass Pickup 10:00 a.m.  |  Lunch will be served at 12:00 p.m. in the Kinsmen Building
Snowshoes and Trail Passes 
Snowshoe rental and trail passes will be provided for the day. Please email Sue () directly if you require a trail pass and/or snowshoes (include your shoe size). If you have your own trail pass and/or snowshoes, please feel free to use them.
The cost to attend this event is $10. Please register by Monday February 13 at 5:00 p.m.
Mileage & Accommodation Reimbursements
Members traveling from out-of-town and whose home postal code does not begin with P6A, P6B, or P6C will be provided with a round-trip mileage reimbursement of 25 cents/km.  Additionally, members traveling in excess of 150 km to reach Sault Ste Marie will be eligible for up to a $100 reimbursement toward overnight accommodation costs. This will apply for the evening of Saturday, February 12, 2022 only. Hotel receipts shall be mailed to  for reimbursement.  If you have additional questions about this, please contact Sue and she will be happy to assist!